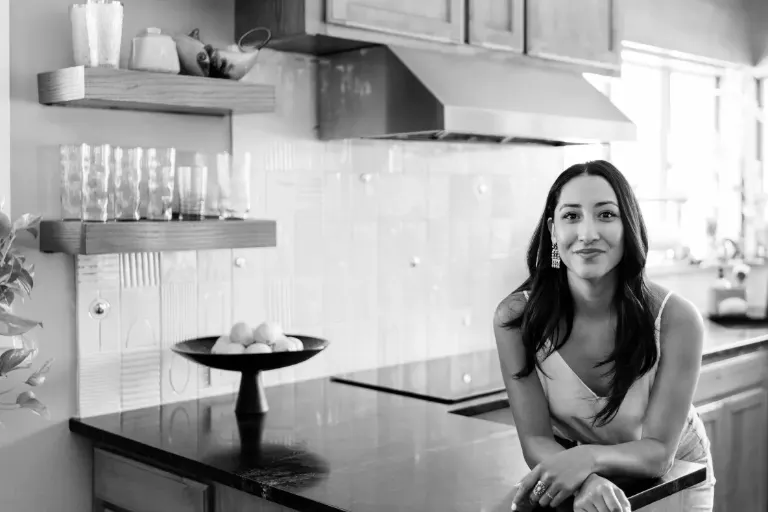 Eliana is a ceramic designer based in Austin, Texas. She creates unique tile designs handcrafted using custom clays and glazes formulated in her studio. Each tile is made in her studio through various slipcasting and ceramic production techniques. She merges traditional tile methods with fine art, setting her handmade tiles in wooden frames to adorn the home with. Her current collections are an exploration of surface design and materials, allowing curiosity to fuel her creativity. While her current collection features tiled wall art, she also works on large scale tile projects.
GET TO KNOW ELIANA BERNARD

Q: WHAT DOES BEING AN ARTIST MEAN TO YOU?

A: For me, it's about getting to create every day, for the purpose of creating. I just love the process and as a ceramic artist I'm able to take an idea and turn it into a tangible product to share with the world. It's a beautiful thing. I am very grateful for the process and the people who support my art.
Q: WHEN DID YOU BECOME INTERESTED IN CLAY, AND WHAT DREW YOU TO CERAMICS AS YOUR MEDIUM?
A: I fell in love with ceramics in college. I began taking ceramics courses and I was hooked! I interned with a few artists in and out of college and learned so much about the medium, before starting my business in 2014. I loved that one medium could be used to create a wide variety of products from dinnerware to sculptures to jewelry and tile. While my collections have changed over the years, the material remains the same. I love how versatile it is!
Q: WHAT INSPIRES YOUR WORKS? ARE THERE SPECIFIC COLORS, PLACES, EXPERIENCES, ETC. THAT YOU DRAW INSPIRATION FROM?
A: I find inspiration in every corner. Sometimes it's a place that I've traveled to and things that I've experienced on that trip, and other times it's an interior space or a single color that I love. But most days the inspiration comes from play in the studio. Looking at my collection of tiles that I've created and playing around with different color combinations, textures, shapes and patterns. I create these little collages in the studio with my tiles that I call "tile play" and I let these pieces exist throughout the space. Revisiting them and moving around tiles as the days go by. Sometimes that one collage can lead to an entire collection!