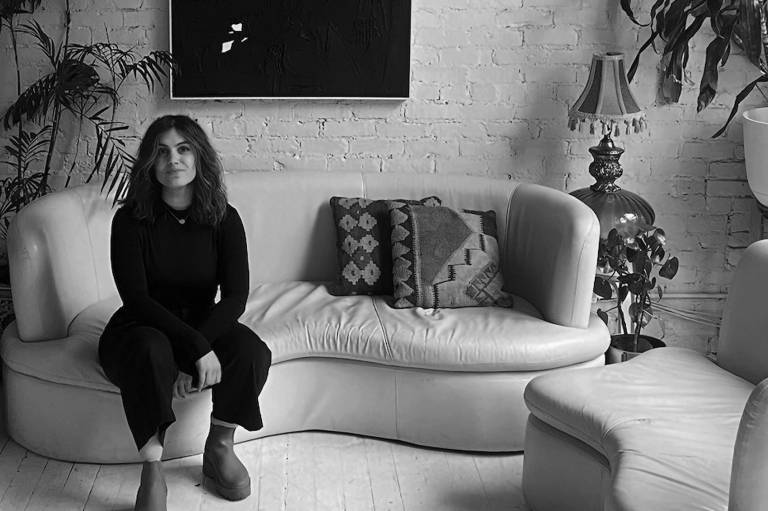 Allison Rohland is an artist whose work represents the integration and celebration of the fragmented parts of ourselves. Since 2014, she has instructed artists with intellectual disabilities and Autism and has been honing her own craft. Her body of work consists of emotive abstracts using bold texture and color through mixed media. Her work has been shown internationally as well as on the East and West Coasts of the US. She currently works out of her home studio in Big Sur, CA.
GET TO KNOW ALLISON ROHLAND
Q: WHAT INSPIRES YOUR WORKS? ARE THERE SPECIFIC COLORS, PLACES, EXPERIENCES, ETC. THAT YOU DRAW INSPIRATION FROM?
A: My Terrazzo Collection was created during a time I was exploring who I was as an artist and as a person. It's about building a new self and taking the "broken" parts of ourselves and turning them into something beautiful. These cast aside parts become the focal point of the painting. The idea behind this collection was actually kind of wild and by chance. I guess you could call it a "happy accident." I had completed a bold color collection and had little vibrant pieces of paint and plaster left over from that collection that I was about to dispose of in the trash. As they were just about to slip into the trash, I quickly salvaged them and started incorporating them into my work. The first iteration was actually pretty absurd with some hot pink flecks embedded within the mostly neutral works.
For me, I am often inspired by color palettes I see everywhere. It could be a pillow, a plate, a garden of flowers. Sometimes I see random tubes of paint in the studio that are resting next to each other and I think they look cool together and I will build a palette off of that. I like to say that my process is just always to be open and willing to find inspiration in every form and every corner.
Q: WHAT IS ONE ART RELATED ITEM THAT YOU CANNOT LIVE WITHOUT?
A: I cannot live without my putty knives and texture tools.
Q: WHEN DID YOU BECOME AN ART INSTRUCTOR, AND HOW HAS THAT EXPERIENCE SHAPED YOUR OWN PRACTICE?
A: I became an art instructor a few months after graduating college. I graduated from a small liberal arts college with a degree in English, and I had no idea that art was on the horizon. I was living in Lancaster, PA at the time. A friend had said to me in passing, "I see you working at an art gallery." I followed her intuitive nudge, but I think I knew deep down that she was right. I ended up applying and was hired as an instructor at a nonprofit organization that was a studio and gallery for artists with intellectual disabilities and Autism.
These artists were so unabashedly themselves and took great pride in everything they created. As a child and preteen I was mentored by a local artist in my community. But my self critic got the better of me and at the age of 12, I declared I was just not good enough to be an artist. But it took working with these artists and appreciating their unique strokes and the way they saw the world to crack something open in me. It gave me permission to explore what was inside of me as we worked different mediums and journeyed through the creative process together. I often say that I was their instructor, but they were truly mine.
I think sometimes you just have to be brave enough to make some really crappy art to get to the good stuff, but to meet yourself with nonjudgement. And that's what I bring to my art practice after working with these artists. One of my favorite artists always says, "don't pussyfoot around." And I think giving myself that type of freedom in my art practice to be bold and take chances has been one of the most beautiful experiences in my life.